Whether you're looking to purchase a grill for yourself or as a gift for the grill enthusiast in your life, finding the right grill can be hard, especially if you don't know exactly what you're looking for. The good news? It doesn't have to be hard. Fireside BBQ & Appliances makes it easy to find the best deals on BBQ grills for any budget and any backyard design.
To help you gain some insight and further inspiration, here are the top 10 best-rated BBQ grills that you should consider taking a closer look at!
1. The Big Green Egg, Large Egg
Kamado grills have attracted a great deal of attention over the past couple of years, with the Big Green Egg being an extremely popular product in this grill category. With benefits like better heat retention and stable temperature levels, improved fuel efficiency, and a variety of grilling options at your disposal, it's not hard to see why this is among the most popular grills today.
2. The Broil King Smoke 28-Inch Vertical Charcoal Smoker
Love to smoke? The Broil King Smoke 28-inch vertical charcoal smoker offers 770 square inches of space for your favorite meats, something that is built upon with excellent features like four stainless steel grids for cooking, an electronic ignition system, two steel doors with an additional premium gasket latch system, and an adjustable aluminum Roto-Draft damper system.
3. The Traeger Timberline 1300 Wi-Fi Controlled Wood Pellet Grill
Traeger offers plenty of best-rated BBQ grills to choose from, which is reflected in our next two choices. The Traeger Timberline 1300 Wi-Fi controlled wood pellet grill is a massive item that offers 1,300 square inches of cooking space, fuel monitoring capabilities, better temperature control, and, yes, Wi-Fi controls!
4. The Traeger Pro 575 Wi-Fi Controlled Wood Pellet Grill
If you're looking for the best deals on BBQ grills and think the above may be too much grill for you, The Traeger Pro 575 is another excellent option to look at! This grill offers many of the same benefits you would receive from the Traeger Timberline 1300 but in a more compact body.
5. The Solaire Everywhere Portable Infrared Propane Gas Grill
Most grills are built-in or freestanding, but some offer greater flexibility to allow you to grill anywhere. The Solaire Everywhere portable infrared propane gas grill is one of the best-rated BBQ grills and for good reason. It offers 155 square inches of grilling space in a 15-pound body, making it the best option for those who want an indoor/outdoor portable grill.
6. The Fire Magic Legacy 30-Inch Smoker Charcoal Freestanding Grill
Looking for a more traditional freestanding grill for your needs? If so, the Fire Magic Legacy 30-inch smoker charcoal freestanding grill may be the best fit for you. This attractive stainless steel grill provides you with 540 square inches of grilling space, plenty of storage space, and easy temperature control and fuel management.
7. The Lynx Asado 30-Inch Freestanding Propane Gas Flat Top Grill On Mobile Kitchen Cart
Having a grill with more preparation space and more storage can be helpful for entertaining. The Lynx Asado is a flat top gas grill that makes grilling easier, offering a 606 square inch food preparation space, storage drawers, and multiple shelves. For those who love convenience when grilling, the Lynx Asado is the way to go.
8. The American Outdoor Grill L-Series 36-Inch 3-Burner Freestanding Propane Gas Grill W/ Rotisserie & Single Side Burner
Pulling out all of the stops is one way to get the most out of your grilling experience (especially if you're looking for the best BBQ grills for the money), and you can do exactly this with the American Outdoor Grill L-Series 36-inch grill. With plenty of grill space along with a rotisserie and side burner, interior halogen lights for nighttime grilling sessions, and precision temperature control for better grilling, you are sure to get your money's worth out of this grill.
9. The Fire Magic Aurora A830s 46-Inch Freestanding Dual Propane Gas And Charcoal Grill
The type of fuel you use plays a major role in the outcome of your food, so why not invest in a best-rated BBQ grill that can handle multiple types? The Fire Magic Aurora A830s does exactly that, offering ample grilling space for all of your grilling needs and full control for greater flexibility.
10. The Fire Magic E250s Electric Grill On Patio Post
Looking for a beginner-friendly grill? Electric grills are much easier to use and help you prepare your food safely. For these types of grilling sessions, consider the Fire Magic E250s to help you get started!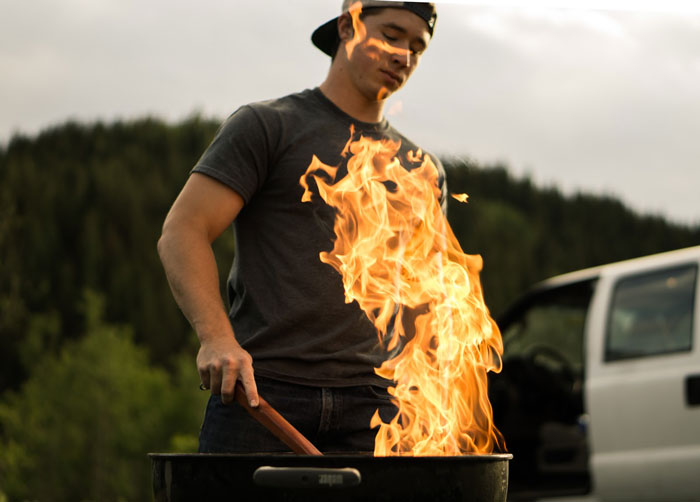 Finding the right grill can be difficult, but here at Fireside BBQ & Appliances, we are dedicated to making it easy for you. If you're looking for a new barbecue, take a look at the top 10 best-rated BBQ grills listed above and contact us when you find the one that's perfect for your needs!