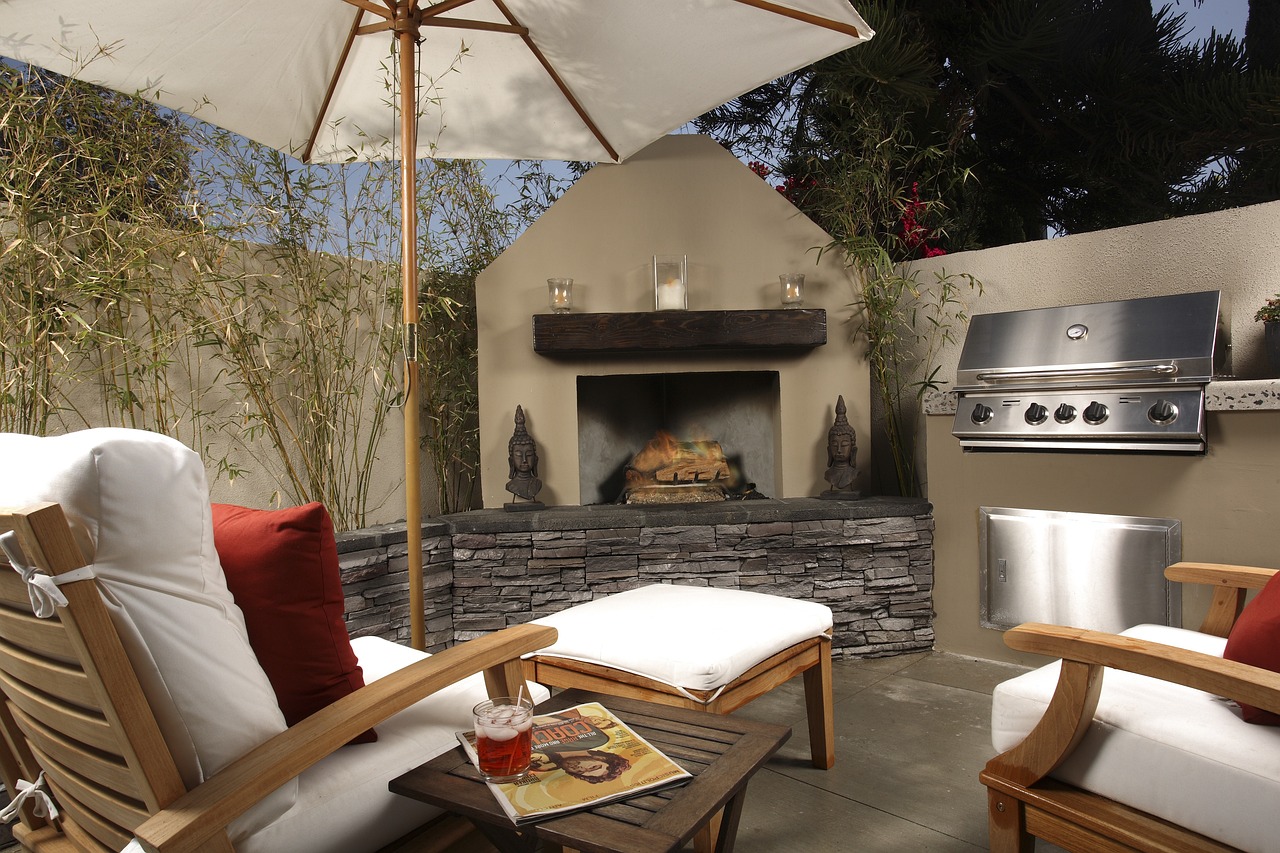 Imagine curling up by the fire outdoors with hot apple cider in one hand and your loved one holding your other hand. The refreshingly cool breeze, red and golden fall colors, and glow of the fire make you feel like everything is right with the world. There's just one problem: You don't have an outdoor fire source.
Yet.
A fire pit is a popular outdoor feature, but an outdoor fireplace will make it easier for you to control the smoke your fire produces. Plus, outdoor fireplaces have smaller footprints: Since they're usually built on the edges of entertaining areas instead of in the middle, they'll free up valuable space for outdoor seating.
Not all outdoor fireplaces are the same, though. Let's explore the best outdoor fireplaces to invest in this fall, including today's increasingly popular see-through outdoor fireplace options.
Direct-Vent Gas Fireplace
Looking for a safe, efficient, and versatile fireplace? Look no further than a direct-vent gas fireplace. This type of fireplace uses outdoor air to fuel your fire and expels the byproducts and combustion exhaust to your outdoor air. It's one of the most effective ways to supply your loved ones with comfortable, warm heat.
Here are a couple of the best outdoor fireplaces that are direct-vent.
Napoleon Riverside 42 Fireplace
This clean-face stainless-steel Napoleon fireplace will instantly create a stunning backyard focal point while standing the test of time. The weather-resistant, see-through outdoor fireplace offers a clear view of your beautiful flames. Take advantage of the fireplace's PHAZER logs, which offer infrared heat while looking like natural logs for the perfect rustic touch. Add decorative panels to the fireplace to elevate its look, and don't forget the remote control so you can conveniently manage your flame's heat. The fireplace takes natural gas as well as propane (more on propane fireplaces later).
Napoleon Galaxy GSS48 Fireplace
Napoleon's Galaxy 48 fireplaces are also some of the best outdoor fireplaces thanks to their sleek, linear modern design. They're perfect for anyone looking for another see-through outdoor fireplace option to add excitement to their outdoor living experience. These fireplaces stand out for their glass wind deflectors, which keep them working efficiently on windy days. They also come with safety valves for turning the gas off when the flames go out.
The Galaxy 48 fireplace's electronic ignition makes starting the fireplace a breeze. Add driftwood media or glass ember and river rock media to your outdoor fireplace to give it the authentic feel family and friends are sure to love. The see-through outdoor fireplace comes with a propane gas conversion kit in case you prefer to use propane instead of natural gas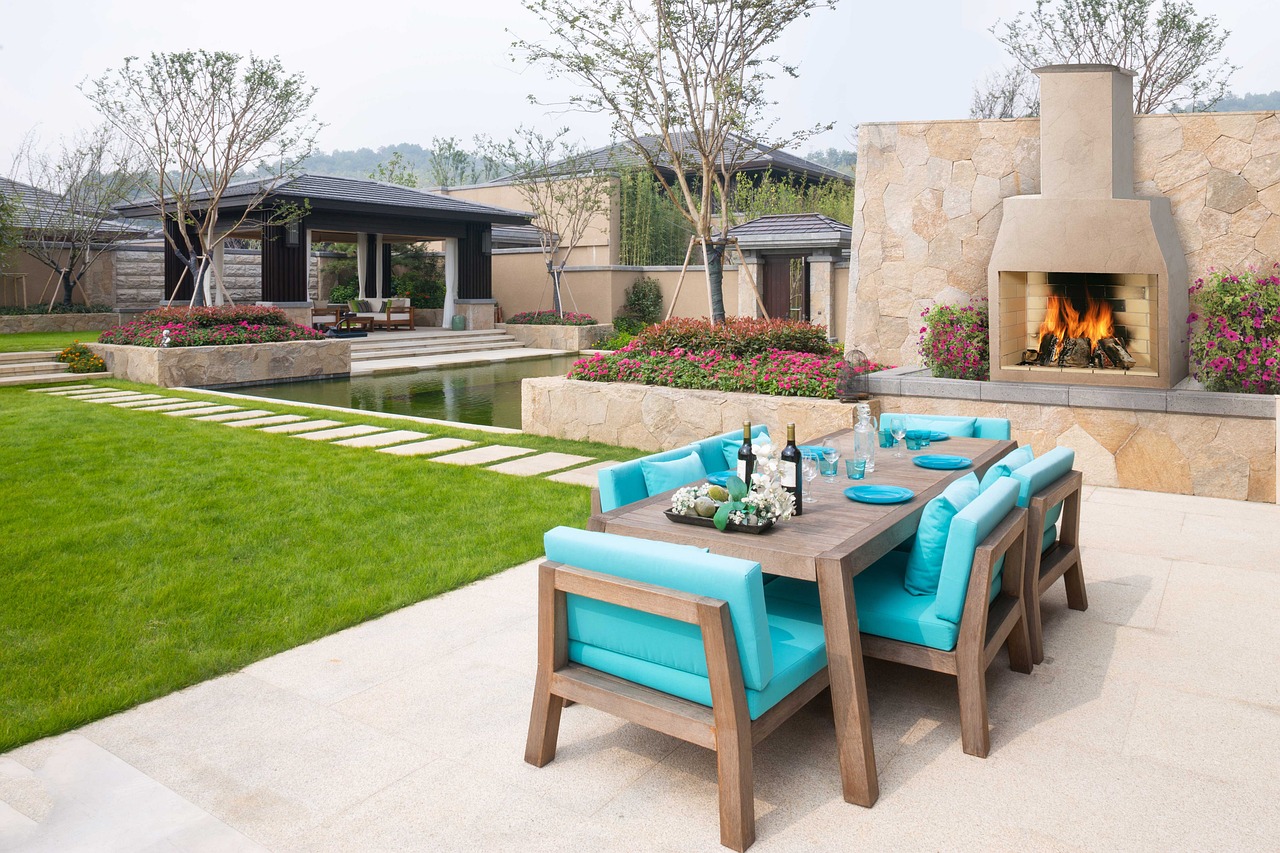 Wood Fireplace
No list of the best outdoor fireplaces would be complete without mentioning wood fireplaces. Wood is one of the most popular outdoor fireplace fuel options since it creates an attractive atmosphere of coziness and warmth. Let's explore a couple of the best wood-burning outdoor fireplaces.
Astria Oracle Fireplace
This Astria outdoor fireplace provides a captivating masonry fireplace look that will immediately make your gathering space look and feel high end. The fireplace's firebox is fully insulated to ensure high-level performance in a colder climate. It also uses an air-cooled chimney designed to withstand cold climates.
Astria Tuscan Fireplace
Wood fireplace lovers will instantly embrace Astria's Tuscan fireplace, which features a gorgeous, smooth-faced herringbone and brick facade. The fireplace's spark screens tuck behind hidden pockets for maximal beauty. This fireplace doesn't just look good, though: It's also highly functional. The fireplace's damper, which helps control ventilation, is easy to access and adjust, and the stainless steel body helps ensure long-lasting use outdoors.
Propane Fireplace
Propane fireplaces are also some of the best outdoor fireplaces since they burn cleaner and hotter than wood. One of the hottest propane fireplace choices for your outdoor patio is the 59-inch Manhattan fireplace by American Fyre Designs.
American Fyre Designs Manhattan
This American Fyre Designs fireplace offers several features that make it a winner for many outdoor-loving homeowners. The fireplace's concrete has been reinforced with glass fiber so it can withstand all outdoor climates. These fireplaces also come with adjustable flame heights and extra propane storage space.
Do you like fire glass? The Manhattan comes with a handy glass burner for this popular accessory. The colorful glass will draw attention to your dancing flame and help conceal gas lines, making Manhattans one of the best outdoor fireplaces for impressing visitors.
Vent-Free Gas Fireplace
Vent-free gas fireplaces are popular vent-free fireplaces due to their convenience and chic appearance. They're simple to install and highly efficient, so you don't have to worry about them increasing your utility bills. These fireplaces also don't require traditional chimneys or venting systems, which makes them even more energy efficient. All harmful gasses are removed with a vent-free system, so vents aren't needed to ensure safe operations. Here are a couple of the best outdoor fireplaces to consider adding to your outdoor living space.
Astria Venetian
The Astria Venetian vent-free gas fireplace stands out for its classic brick firebox appearance. Your loved ones will admire the fireplace's designer colors combined with its herringbone or stacked patterns and its authentic-looking gas logs. Expect nearly 100% heating efficiency when using the fireplace's vent-free log set. The fireplace is also fully insulated to deliver stellar performance in the coldest climates.
American Fyre Designs Mariposa
The Mariposa fireplace is another must-have vent-free option. This fireplace provides plenty of warmth on the coldest nights while also making a statement. The sedona finish weathers naturally, giving way to a beautiful, unique appearance. Each Mariposa fireplace is individually handcrafted, so your fireplace will be one of a kind when it comes to color and texture. The fireplace's logs feature steel rods to give the logs ample reinforcement even when they're burning at extremely high temperatures.
Shop Woodland Hills Fireplace for the Best Outdoor Fireplaces Today
At Woodland Hills Fireplace, we're excited to offer multiple high-quality and appealing outdoor fireplaces, including see-through outdoor fireplaces. Explore our wide firebox selection, and order today!