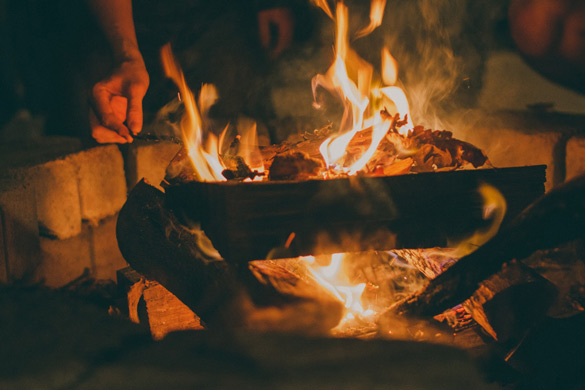 Having a fire pit nestled within the backyard area is one of the most desirable elements that homeowners are looking to have at their homes today. This outdoor space of warmth and relaxation provides an inviting gathering space for all those who share their time there. Whether you are looking to add a little romance to your home's aesthetic, or you simply want to design a way to entertain your guests outdoors, a fire pit makes a wonderful addition to your outdoor space. Here are seven backyard fire pit ideas to get your creative juices flowing.
Sunken Fire Pit
One backyard fire pit patio idea that you may not have thought of is a sunken fire pit. Sunken fire pits are unique in that their seating exists below the surface of the ground. This inground seating can be dug into the earth, or can also be built into your porch. The options with a sunken fire pit are practically limitless.
You can shape your seating in the form of a rectangle, square or a circle. Your fire pit, logically placed within the center, should have a shape that mimics the outside shape of your seating. Sunken fire pits are unique from other backyard fire pit ideas in the way that they have an intimate feel about them, due to the way they are surrounded by the earth. If you're choosing this design, it's strongly recommended that you work with a local contractor on any required permitting, construction, or landscaping required to make the changes to your property.
Propane Fire Tables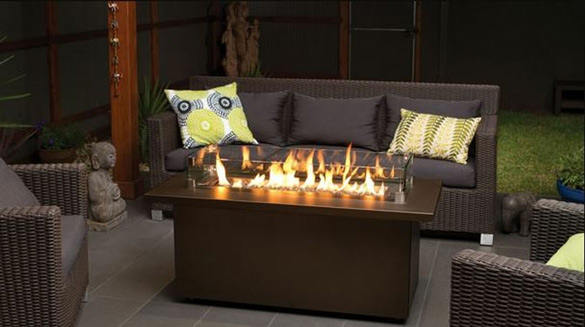 More examples of backyard fire pit design ideas include propane fire tables. The great thing about them is that they are multi-functional, in that you can use them to serve drinks and food as well as enjoying the warm fire when it's appropriate. Because they run on propane, you can easily turn them on and off at will. Many propane fire tables utilize fire glass, which is a dazzling substrate that comes in a variety of colors and has an interesting visual effect when the fire is burning, creating an elegant and welcoming ambience.
Rustic Fire Pits
One can't mention backyard firepit ideas without speaking of rustic fire pits. They are all about getting back to basics, as they often have a primal feel about them. Some rustic fire pits consist of stacked stones, while others may be made of iron or raw steel. They are perfect for people who crave the outdoors, love the smell of a campfire, but want to ensure optimal safety while adding a rustic touch to their backyard. When going for a rustic look, aim for texture and organic refinement.
Outdoor Fireplaces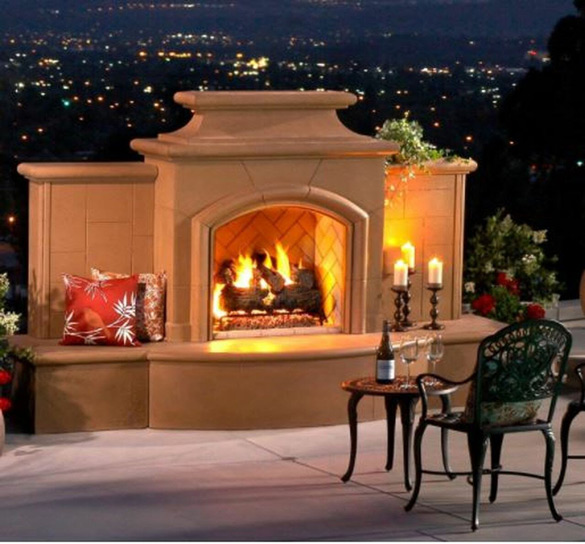 Outdoor fireplaces are another type of backyard fire pit patio feature that are definitely worth discussing. Although they aren't technically a fire pit, an outdoor fireplace is a magnetic, eye-catching work of art that breathes life into an outdoor patio area. Simply picturesque, an outdoor fireplace is as inviting and welcoming as it comes. Available in gas, electric or wood-burning varieties, outdoor fireplaces are the ultimate in luxury and sophistication.
Outdoor Fire and Water Features

One luxury backyard firepit idea is to consider both fire and water features to add a contemporary, sleek look to your outdoor living spaces. An example would be to implement outdoor gas burners to accentuate an infinity pool, or to add visual appeal for elsewhere on your grounds. This unique combination of these opposite elements makes for a very interesting spectacle. It will serve as a focal point for your space, and will be an element that few other people have.
Fire Urns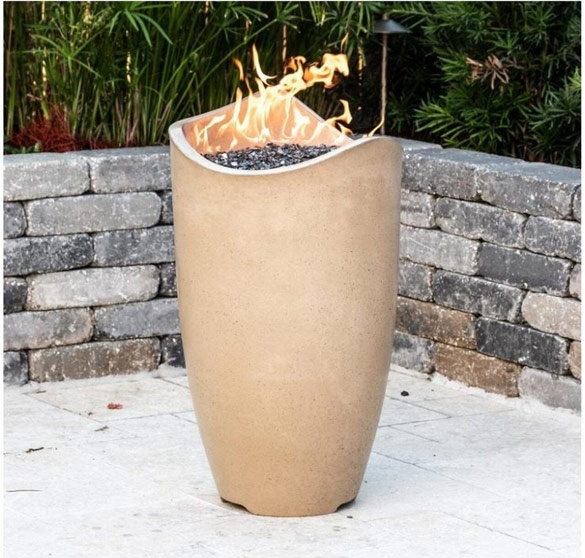 Perhaps at this point you have developed backyard fire pit design ideas of your very own. If you don't have a lot of space to work with, you can still add the element of fire as a nice touch around a pool area or walkway, for example. This can be done by strategically placing a fire urn. They add a touch of elegance wherever they are placed. Generally made out of concrete, they are available in a variety of colors and textures in traditional and contemporary styles.
Fire Bowls
Just like the name sounds, a fire bowl is a backyard firepit idea that is essentially a fire pit shaped like a great big bowl. Commonly constructed of cement or copper, a fire bowl is built on legs and is portable. The bowl may be filled with creek stones and be fueled by propane or natural gas. Depending on the style, some may also be wood-burning. Many different designs are available, from contemporary, to traditional or rustic.
Fireside Appliance Has What You Need
Don't know where to start in finding the perfect fire feature for your outdoor space? We at Fireside Appliance are proud to carry a wide variety of only the finest products available on the market today. Our family-owned business will match any competitor's price with our 30-day price match guarantee. We have financing available, as well as local delivery and installation should you need it. Contact us anytime via live chat, and we will be happy to answer any questions you might have, or provide you with a quote.