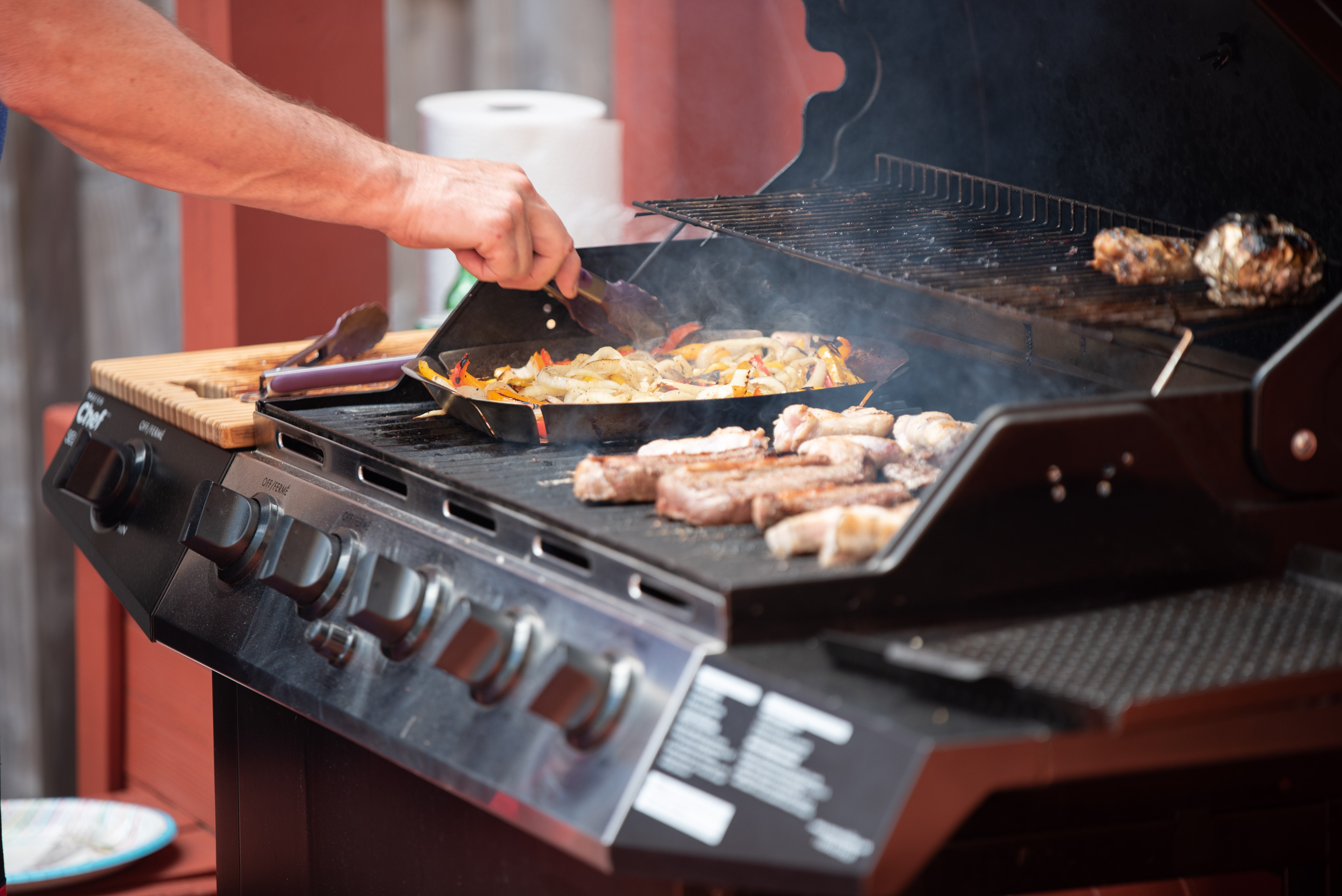 With the approach of summer, everyone's excited to enjoy their outdoor living spaces more than ever. As you take a look at your backyard space, you may notice that there are some renovations and updates you're thinking of to take your yard to the next level. If you're ready to fire up the BBQ backyard grill and get the backyard BBQ set up of your dreams, here are a few tips on how to get your backyard ready for summer BBQs.
Make Sure Your BBQ Is Clean and Ready for Action (or Get a New One)
There's nothing worse than cracking open your BBQ for a party, only to find that it needs some serious TLC in order to get it up and running as it should be. The good news? Although it takes a bit of elbow grease and determination, learning how to clean a BBQ grill is relatively simple with the right tools! If, however, you find that your BBQ backyard grill may not be up to the task of preparing food for yourself or your party guests, it may be time to invest in a new grill that will offer you the support you need for all of your backyard gatherings.
Consider Expanding Your Outdoor Kitchen Area
After the quarantines of 2020 and 2021, most people took the ability to gather with friends and loved ones for granted, which means that future gatherings will have so much more meaning than before. As such, it may be time to reassess your backyard BBQ set up to see how you can get more out of your space when you decide to host.
Whether this means installing a new BBQ island complete with a BBQ backyard grill or BBQ island components that help you make more of your existing outdoor kitchen, a few enhancements here and there can go a long way in making your backyard space even better for summer BBQs.
Create a Dream Space That Your Guests Will Love
Focusing on your favorite backyard BBQ designs can go a long way in helping you create a dream space that your guests will love. But as you start looking around and getting a feel for how others are decorating their space, you may be asking yourself, what qualities should I be emulating in my own backyard space? Beyond having a high-quality BBQ backyard grill and food preparation area capable of handling your desired number of guests, your backyard should:
Offer plenty of shade for your guests: The summer heat can be relentless, and unless you have a pool where your guests can take a dip, they're going to need a reprieve from the heat. Make sure that your backyard offers plenty of shade for your guests so that they enjoy spending time in your space without feeling the need to go inside to cool off.
Feature colorful, fun design elements: Summer evokes feelings of warmth and brightness, something that your backyard design should reflect. Consider looking for new furniture with a color scheme you love or even adding a splash of paint to your patio to live up the area. Remember, first impressions can set the mood of a gathering, and you want your guests to feel at home, energized, and happy when they attend your BBQs.
Encourage your guests to get comfortable: The right backyard furniture will encourage your guests to sit down and stay awhile when they arrive at your BBQ. Look for furniture that helps your guests sink into summer while also keeping them cool and comfortable. The more inviting your furniture is, the more likely your guests will be to stick around and enjoy what your backyard has to offer. Elements likefire pitsand outdoor heaters can truly offer a cozy, welcoming atmosphere for when it gets cooler in the evenings, as well.
Simply put, your BBQ backyard grill isn't the only essential component to throwing great summer BBQs. Consider the points offered above when you begin working on designing an area that you, your family, and your guests will all enjoy.
Need Help Finding the Right Appliances for Your Backyard? Turn to Fireside Appliance!
Looking for a high-quality grill and backyard kitchen appliances can be the hardest part of building the backyard space of your dreams. Fortunately, shopping for these essential items is made easy with Fireside BBQ & Appliances!
No matter what type of BBQ backyard grill calls out to you, shopping with Fireside Appliance allows you to tap into stellar benefits like lower prices and a 30-day price match guarantee and financing available for products in our store. Inquire for a quote today or speak to a sales expert to learn more about any of our products that catch your eye!