As the cold winter weather begins to move in, chances are that you're on the hunt for things that can help you stay warm through the holiday season and beyond. One excellent way to keep warm this season is to purchase a fireplace for your home. But, what exactly should you be looking for when you start shopping?
If you want a fireplace but don't know exactly which type would be a perfect fit for your home, here are some helpful tips that will show you how to choose a fireplace that's right for you.
Types of Fireplaces
The main thing to focus on when you're looking for a new fireplace is how it functions. There are three main types of fireplaces that you will encounter: electric fireplaces, wood burning fireplaces, and gas fireplaces.
1. Electric Fireplaces: Electric fireplaces offer the aesthetic of a traditional wood burning fireplace without any of the hassle that comes with it. With a wide variety of styles and designs available that are easy to install in your home, all you have to do is flip a switch and enjoy the heat as it radiates throughout your chosen space.
2. Wood Burning Fireplaces Wood burning fireplaces are often the first thing that comes to mind when fireplaces are mentioned, and for good reason. Who doesn't love the crackling sounds and comforting smells that come from a wood burning fireplace? Although they are a bit more difficult to install as they require construction for both the opening and the chimney (a major consideration when discussing how to choose a fireplace), they are worth it if a cozy, classic fireplace design is your dream fireplace..
3. Gas Fireplaces Gas fireplaces offer a nice medium between electric fireplaces and wood burning fireplaces. Of course, this means that figuring out how to choose a gas fireplace can be a little more difficult. Some options you have at your disposal include vented versus ventless fireplaces, those that run on gas and those that run on ethanol, and products that evoke a more traditional feel versus those that have a more modern feel.
Where Will Your Fireplace Be Located?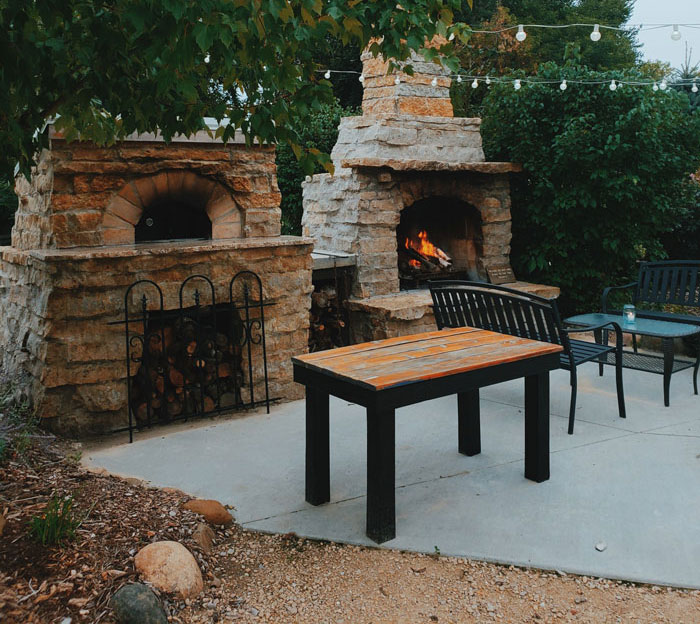 Your new fireplace's location is another major factor that will help you figure out how to choose a fireplace. As you may have guessed, you're going to either choose an indoor or an outdoor fireplace (or, if you're looking to stay warm inside and outside, both).
The major considerations to make when looking for an indoor fireplace include figuring out exactly where it needs to be installed, what the installation process will look like (and how long it will take to complete), and what type of style you're looking for in a fireplace, with the exception of electric options as they are much easier to install.
If you're interested in outdoor fireplaces, you're going to have a bit more flexibility with your choices when you're looking into how to choose a fireplace for your needs. The type of fireplace you choose will depend on your backyard layout, whether you want a basic installation that offers warmth or a piece to enhance your existing backyard space, and the heat source that will best keep you warm in your environment. Many outdoor fireplaces are easier to operate and less demanding as well.
Another thing to keep in mind is how your tastes and needs may change in the future. For example, if you find yourself looking into how to update a fireplace, will it be relatively easy to make the necessary changes?
What Does My Budget Currently Look Like?
Arguably the biggest question to ask yourself is, what does my budget look like? Establishing a budget will help you find the most affordable options, allowing you to narrow down your choices based on which products you're able to afford right now. That being said, if you do find something that is out of your price range, you may be able to find a payment plan that can help you pay for your new fireplace over time.
Although picking out a major installation like a fireplace can be daunting, it is far easier than you may think. All you have to do when going through the process of how to choose a fireplace is to look at what types of fireplaces are available, consider where your new fireplace is going to be installed, and find the most affordable matches for you.
Fortunately, here at Fireside BBQ & Appliances, we make it easy to find the right fireplace for your needs. If you're in the market for a new fireplace for your home, take a look at our extensive collection and contact us for more information when you find your dream fireplace!