Posted by Woodland Hills Fireplace on May 18th 2023
If you're considering gas firelogs for your fireplace, you may be surprised at all the different options available to you. Before you buy, you'll want to learn the pros and cons of certain styles and find the right BTUs needed to efficiently heat your living space. We'll keep you in the know about the best types of gas fireplace logs on the market today.
Gas Firelogs vs. Wood
Nothing is going to look more realistic than natural hardwood burning in a fireplace. Even the best gas fireplace logs won't have that smoky smell that reminds you of a cozy home on a cold winter night. However, there are many advantages of gas firelogs over real wood. Wood-burning fireplaces need constant attention to reduce the risk of the fire spreading into your home. Burnt wood creates messy ash that needs to be removed regularly. Gas firelogs on the other hand need no maintenance, pose fewer fire risks, and put out two times as much heat as natural wood. In urban and suburban areas, your best fireplace option may be gas logs for a lack of space to store or chop wood.
Propane vs. Natural Gas
Propane is often the best type of fuel for gas log fireplaces because it is easy to install and burns three times hotter than natural gas. However, natural gas is cheaper and a very convenient option if you already have natural gas lines running into your home. When choosing to go with propane, a tank will need to be situated outside of your home and you can contract with a company to regularly fill your tank. If you want natural gas but don't currently have natural gas lines, you'll need to check with your local natural gas service to see if it is available to be installed in your area.
Freestanding vs. Built-in Fireplaces
If your home doesn't have a fireplace with a brick chimney, don't worry! You don't have to spend thousands of dollars on home renovations to install a fireplace. The best gas log fireplaces can be prefabricated in built-in and freestanding styles. Both of these styles vent through insulated metal chimney components. The chimney pipe can run through walls, ceilings, and roofs. Built-in prefab fireplaces look very much like traditional wood fireplaces and need a little more work to make them mesh with your living space. Freestanding fireplaces are easy to assemble and come in a wide variety of finishes to match your home decor.
Vented vs. Vent-Free Gas Firelogs
The first and most visual difference between these two types of gas logs is that vented logs have a much larger and more realistic flame than vent-free logs. Vented gas logs may look best in fireplaces but they are less heat efficient. This is because vented logs send much of their heat up the open flue of the chimney. Vent-free logs send all of their heat out into the room as they use a closed chimney flue. Vent-free gas logs often come equipped with a thermostat.
Another big difference when choosing to heat your home with vented or vent-free gas logs is the moisture level. Vented gas logs dry your home (and you) out while vent-free gas logs add moisture to the air. Vent-free gas logs need to have good ventilation to avoid an issue with mildew.
Deciding on the best gas logs for your fireplace may come down to codes and regulations in your state. Some states or rental properties don't allow vent-free heating. Vent-free gas fireplaces also can't be installed in bedrooms, bathrooms, or recreational vehicles. They must be installed at least 36" away from flammable objects like curtains, clothing, or furniture and are not recommended in drafty areas.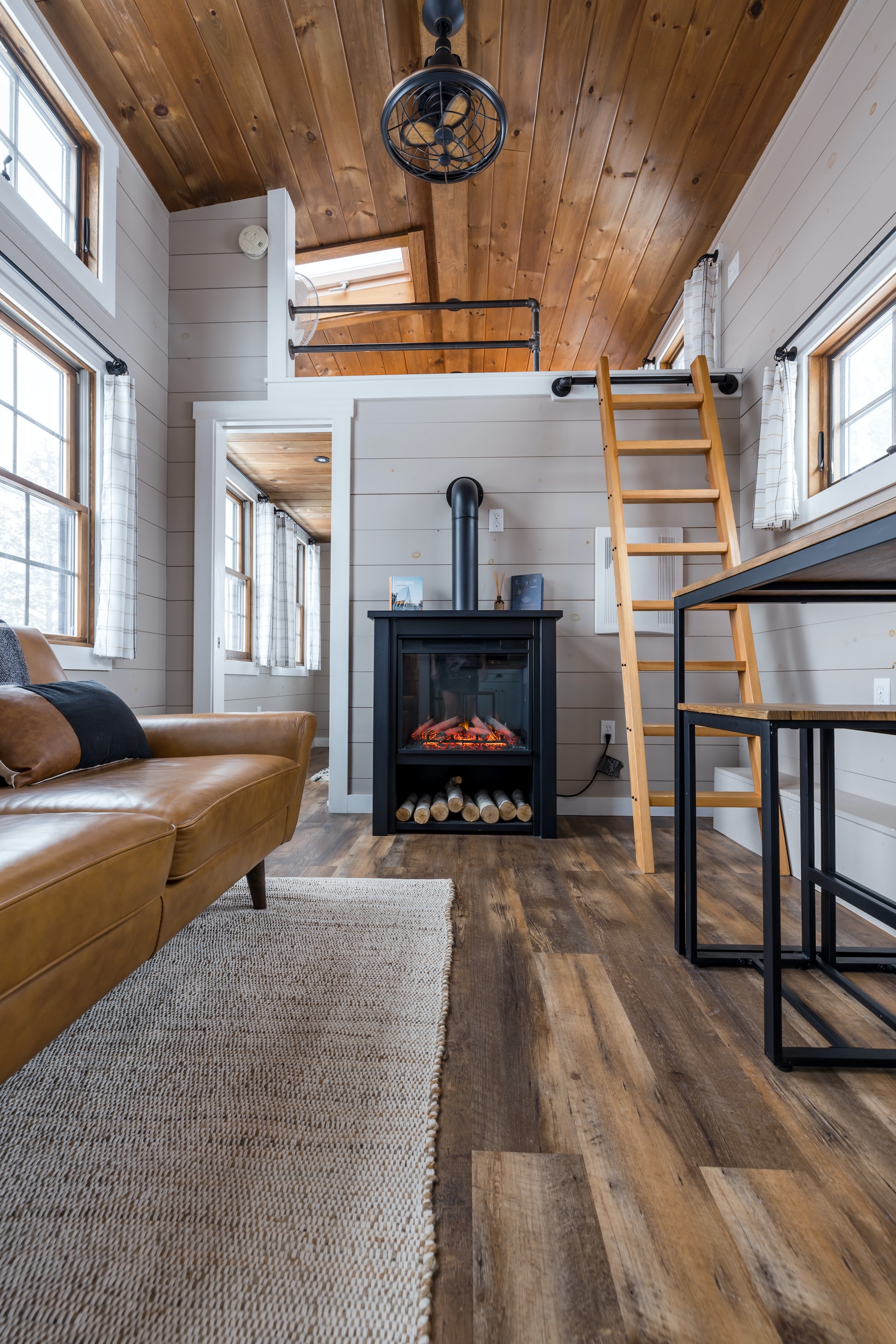 Choosing Adequate BTUs
If your gas fireplace is going to be a main source of heat for a room in your home, you'll definitely want the proper BTU output that will be able to keep your space nice and toasty. Otherwise, you'll be grabbing for a sweater and be disappointed with your purchase. The width and length of your room are important, as well as the height of your ceiling since heat rises. For example, a small 12' x 12' room with an average 8-foot ceiling will need about 5,200 BTUs to be adequately heated. Whereas a large 30' x 30' room with a tall 10-foot ceiling will require about 40,500 BTUs. Refer to the chart below to find the best gas log fireplace BTU estimated ratings for rooms with average 8-foot ceilings.
| | | | | |
| --- | --- | --- | --- | --- |
| | 12' length | 18' length | 24' length | 30' length |
| 12' width | 5,200 | 7,800 | 10,400 | 13,000 |
| 18' width | 7,800 | 11,700 | 15,600 | 19,500 |
| 24' width | 10,400 | 15,500 | 20,800 | 26,000 |
| 30' width | 13,000 | 19,500 | 26,000 | 32,400 |
Now, when shopping for the best types of gas logs for your fireplace, you may find BTU ratings may or may not be listed. To find BTU ratings for gas firelogs, you can visit the manufacturer's website where they should break down the BTU ratings based on fuel type, burner style, and burner length.
Remember Fire Safety
Even though gas fireplaces are much safer than traditional wood fireplaces, fire mishaps can still happen. Be sure to have a filled and properly inspected fire extinguisher nearby. Install both smoke detectors and carbon monoxide detectors. Keep flammable items at least 3 feet or more away from your fireplace. If you have young children, consider getting fireplace safety gates to help keep them at a safe distance.
Fireside BBQ & Appliances offers a wide variety of the best fireplace gas logs on the market. If you're unsure of what size or style of gas firelogs are best for your living space, we will be happy to help you find the right setup. Contact us today or come visit us at one of our brick-and-mortar locations.